คำอธิบาย
Key Benefits
Compression and efficiency – Thanks to latest generation compression tubes, these arm sleeves compress precisely like no other. Strategic muscles, well upheld, get oxygenated easily and e_x001D_ ciently. Arms are guarded against cramps andaches. Post-e_x001C_ffort recovery is greatly eased.
Maximum thermoregulation – Bioceramic crystals integrated in the fibre facilitate optimal body thermoregulation during extreme e_x001C_ ort. Blood microcirculation is stimulated on the surface of the skin, which enables further thermoregulation. As genuine second skin, it protects arms from cold and are e_x001C_ ective as anti-UV.
Lightness and Ergonomy – Extra-soft fi bres make these sleeves the softest of all! They allow free movements, the elbow area is extremely fl exible avoiding any discomfort. Ergonomic these ultra-light sleeves stay in place till the end
Product net weight
32.00 g
Wash & care instructions


Archstim support
Located in the arch of the foot, it also provides for venous return and recovery.
Sizing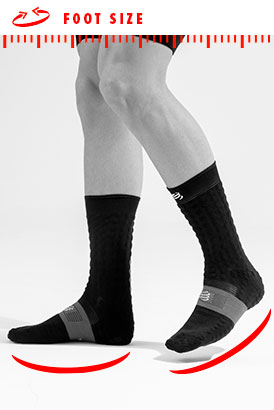 | | EU | USA (M) | USA (W) | UK (M) | UK (W) | BRA |
| --- | --- | --- | --- | --- | --- | --- |
| T1 | 35-38 | 3,5-6 | 5-7,5 | 2,5-5 | 3-5,5 | 33-36 |
| T2 | 39-41 | 6,5-8 | 8-9,5 | 5,5-7 | 6-7,5 | 37-39 |
| T3 | 42-44 | 8,5-10,5 | 10-12 | 7,5-9,5 | 8-10 | 40-42 |
| T4 | 45-48 | 11-13,5 | 12,5-15 | 10-12,5 | 10,5-13 | 43-46 |