คำอธิบาย
NEW FEATURES FOR SUUNTO 5
Turn-by-turn navigation​
​Never take a wrong turn again with turn-by-turn navigation alerts. Plan your route on komoot's desktop or mobile app and sync it with your Suunto 5 to get started. When a turn is approaching, you'll receive an alert so you can enjoy the scenery instead of focusing on your watch. Learn more about komoot.​
Point of interest creation and navigation​
​A point of interest (POI) is an important location that you can save and navigate to later. Create POIs on your Suunto 5 by saving your current location, or add them in the Suunto app and sync them to your watch. When navigating towards a POI, you can see the direction and distance to the location. If you need to, you can easily switch between POI and route navigation when you're on the go.​
New outdoor partners
Plan your off-road adventures on komoot, find your next mountain adventure on FATMAP or check the best routes with Wikiloc. Suunto partners give you tools for your next trail run or mountain trip. Learn more at suunto.com/partners.
SUUNTO 5
Intelligent battery modes
Ensure you are always ready for a long workout without having to worry about running out of battery.
Over 80 sport modes
Enjoy over 80 sports modes out of the box or customize your own in the Suunto app.
Fitness level tracking
Track your fitness level (VO2max) and follow your progress in the Suunto app. Keep an eye on your resources by tracking stress and recovery.
24/7 activity tracking
Track your steps, calories and sleep to keep life, training and recovery all in balance. Find summaries and trends in the Suunto app.
Adaptive training guidance
Follow your adaptive 7-day training plan with optimal training duration and intensity to achieve your fitness goals.
GPS navigation
Plan your own adventures or check out the most common routes from the Suunto app and follow them with your watch.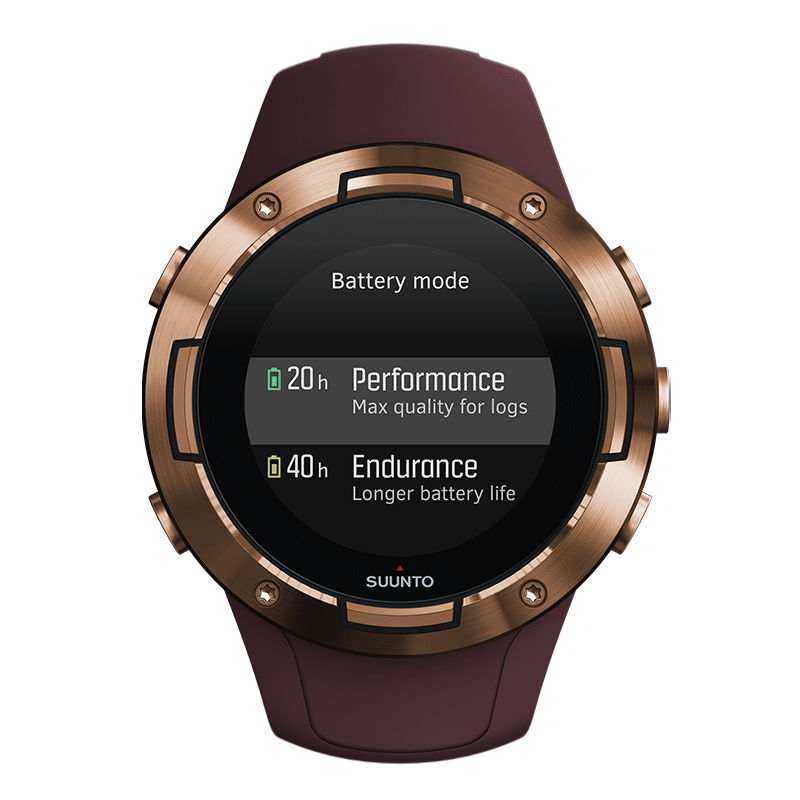 SUUNTO 5 IN SHORT
Suunto 5 offers long battery life in a compact GPS watch, packed with multiple sport features making it easy for you to track all your workouts and follow your progress. The watch also tracks your 24/7 activity including stress and sleep, so you can make sure that you are recovered and ready for your next sports activity. This durable companion has been built and tested in the harshest of Nordic conditions.
ENJOY LONG WORKOUTS WITH YOUR COMPACT WATCH
Suunto 5's sleek, lightweight design makes it comfortable for everyday use. With its intelligent battery modes and long battery life you don't have to worry about it running out of juice. The watch will even remind you to charge it so that you are always ready to go. Suunto 5 won't give up even in the harshest of conditions.
FOCUS ON YOUR SPORTS AND FOLLOW YOUR PROGRESS
Suunto 5 tracks your fitness level and adapts your training guidance based on your progress and goals. With its 80 customizable sports modes you can get relevant statistics regardless of your sport. Sync to Suunto app to explore new heatmap tracks directly from your watch. By connecting to your favorite sports services from Suunto app you'll get even more out of your experience.
DISCOVER YOUR DAILY ACTIVITY AND RECOVERY INSIGHTS
Suunto 5 doesn't only track your sports but your daily activity, stress levels and sleep quality as well. With this watch you can ensure you don't over-train on days when you need rest. Find summaries and trends in Suunto app that help you keep life, training and recovery time all in balance.
GET THE BENEFITS FROM SUUNTO PARTNER NETWORK
Connect your Suunto watch with your favorite tools to analyse your training, find new routes, get coaching or create 3D videos of your adventures – and share to your favourite community.
Suunto watch also comes with Value Pack; benefits and treats worth over 500€/£/$ offered to you by our partners aiming to elevate your training and outdoor experience and help with reaching your goals.